For over two years, DOCTOR LAWN has been developing an underground, zero wastage, cost effective watering system for lawns.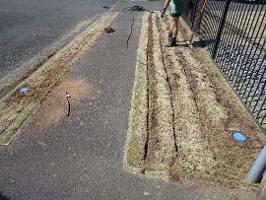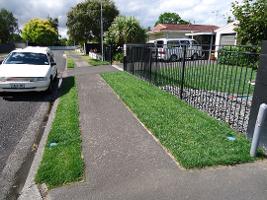 More specifically, for narrow strips of lawn between roadside gutters and footpaths, and other narrow strips between footpaths and the start of your section.

There is absolutely NO precious water wasted through evaporation, watering the road, footpath, fence or pedestrians. Added advantages are no annoying flooding, gushing or hissing noises from conventional sprinklers. We calculate that up to 80% of water is wasted in these areas using conventional watering methods.
Hamilton City Council is currently in the review stage of considering installing water meters throughout the city, so wastage could be costly in the near future!
Just look at the photos showing existing lawn mowed to ground level prior to trenching for AQUA-MATIC. The second photo shows the same lawn 3 weeks later. Beautiful and lush!
DOCTOR LAWN has developed an exclusive trenching machine to dig a narrow trench exactly the same width as the underground irrigation pipe, (less than the thickness of your thumb). This enables the lawn to quickly grow over the buried pipe.
When DOCTOR LAWN'S fertiliser lawn treatment is used after the AQUA-MATIC system is installed, grass rejuvenation over the irrigation pipes is dramatically increased.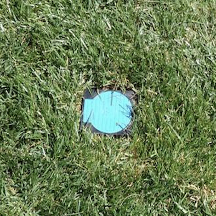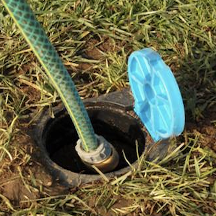 The AQUA-MATIC flush box installation...
The only clue to DOCTOR LAWN's exclusive, silent lawn watering system, is an unobtrusive flushbox in the lawn to be irrigated. Simply lift the lid, plug in your garden hose and walk away!
The use of an optional tap timer (manual or electronic), can be fitted to control the system automatically, and multiple areas can be irrigated simultaneously from one house tap outlet whilst away from your home.
Simply lift the lid and plug in your garden hose, turn on the tap and walk away!
Call the DOC on 0800 362 529 for a free no obligation quote now!